Review of the Assent Platinum 0% Intro Rate Mastercard® Secured Credit Card
Secured credit cards are often stepping stones for people with past credit challenges. These cards give users the opportunity to build credit and practice card management without incurring unsecured debt. If you're looking for a card to rebuild your credit, the Assent Platinum 0% Intro Rate Mastercard® Secured Credit Card could be a great fit for you.
Assent Platinum Secured Credit Card Features and Fees
Here is an overview of the key features for the Assent Platinum 0% Intro Rate Mastercard® Secured Credit Card:
0% APR for the first 6 months (Prime Rate + 9.74% after that)
Initial credit limits from $200 to $2,000 with corresponding security deposit
Credit limit can increase to up to $5,000 over time
24-hour online account management
Monthly credit reporting to all three bureaus
25-day grace period
$49 annual fee
Full-featured Mastercard that can be used for car rentals, hotels and more
Unsecured credit lines available with approval
How to Make the Most of 0% Intro APR
The 0% introductory APR that Assent offers is practically unheard of in the secured card industry. You can use this to your advantage with the right credit card strategies.
If you have struggled to pay off your monthly credit card balance in the past, use the introductory period as a time to practice smart money management. Get in the habit of paying off your balance within the grace period. When the intro period is over, this habit will allow you to bypass interest payments on your account.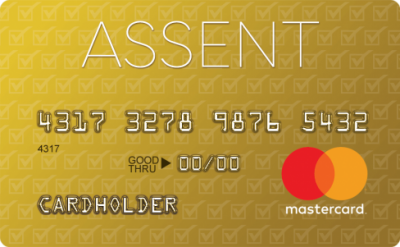 Apply now for Assent Platinum 0% Intro Rate Mastercard Secured Credit Card
Apply Now
If you want to make a large purchase with your card, it would be best to do this during the introductory period. Set up a payment plan that covers the balance within the first six months. Technically, you're using your own money to finance your purchase because you provided a security deposit to open the account. A secured card helps you build credit. Paying in cash won't. As long as you pay everything within the time frame, you can enjoy the credit boost without the interest.
Be mindful of when the intro period ends. You don't want to get stuck with an avoidable interest charge. Pay off your balance well within that time frame, and continue to pay it off each month, when possible.
Above all else, make at least your minimum monthly payments on time each month. Zero interest doesn't mean zero payments. You still have to make a payment every month to keep your account in good standing.
How Does Assent Platinum Compare to Other Secured Credit Cards?
The Assent Platinum 0% Intro Rate Mastercard® Secured Credit Card exceeds other secured cards in many ways, but it still has its drawbacks. Check out the pros and cons to decide if this secured card is right for you.
Advantages of the Assent Platinum 0% Intro Rate Mastercard® Secured Credit Card
The 0% intro APR is the biggest perk Assent Platinum has to offer. This intro period gives you a chance to develop good credit card habits without the risk of high interest charges. If it takes you a few months to figure out your finances, you won't have to worry about interest.
The initial credit limit of $2,000 could be considered a drawback, but you can increase that to up to $5,000 over time. Better still, Assent may increase your credit limit without the need for an additional security deposit. If you maintain good payment history and frequent card use, your account could qualify for an unsecured credit line increase.
Most of the fees on the Assent Platinum Mastercard® Secured Credit Card are comparable to other secured credit cards. The 25-day grace period gives you plenty of time to pay your balance off each month, and the online banking tools help you see account info in real time. Monitor your balance, due dates, transactions, fees, and other details for free, 24/7.
Disadvantages of the Assent Platinum 0% Intro Rate Mastercard® Secured Credit Card
Assent Platinum's $49 annual fee is slightly higher than some other secured credit cards. If you're not going to benefit from the 0% intro APR, you may be better off with a secured card that has a lower annual fee.
This card is currently not available in New York, Iowa, Arkansas or Wisconsin. If you live in one of those states, you'll need to look for a different secured card.
Can I Increase My Credit Limit without an Additional Deposit?
According to Assent Platinum's cardholder agreement, "We may choose to increase your Credit Limit without requiring you to add to the Deposit Account." This means you may see a credit limit increase without an additional security deposit. For many cardholders, an unsecured credit line increase provides a smooth transition toward an unsecured credit card.
Here are some tips for transitioning from a secured credit limit to an unsecured credit limit.
Continue practicing good money management habits, regardless of your new credit options.

Don't fall into reckless spending just because you have more money available. Pay your bills on time each month. Pay off your card balance quickly. Monitor your account, and evaluate each purchase before you make it.

Actively use your card to continue building credit.

This doesn't mean you should spend everything available to you. Instead, use your card for day-to-day transactions, and then pay them off within the billing cycle. This shows consistent account activity while keeping your credit utilization to a minimum.

Do not accept the credit limit increase if you aren't ready for it.

If that extra money is going to tempt you into debt, don't risk it. Keep using your secured credit line to build credit without debt.

Understand the terms of your new credit line.

If there are any changes to the fees on your card, you need to make note of them.

Only use a cash advance for an absolute emergency.

Cash advances are riddled with fees and high APRs. The only time you should withdraw cash from your credit card is in the event of an emergency.

Pay off your balance before canceling your card.

If you plan to cancel your account, you'll need to pay off the balance before getting a refund of your security deposit.

Don't expect a credit line increase right away.

It will take at least six months of positive account history before you can get an unsecured credit line. If you are not approved for unsecured credit at that time, wait several more months before pursuing it again. Credit building is a gradual process, but the results are worth the wait.
Compare secured credit cards here on Secured Card Choice to find out if the Assent Platinum 0% Intro Rate Mastercard® Secured Credit Card is right for you. All of the cards featured on the site report payments to Equifax, Experian and TransUnion.